Scrollbar 0.9.9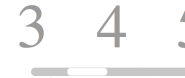 A simple Apple-style productbrowser, that extends Slider using a container with Fx.Scroll.
Features
new mouse wheel support
Animated scrolling
Flexible
Lightweight
Cross-Browser Compatible
---
---
Details
Author

Current version

0.9.9

GitHub

Downloads

16881

Category

Tags

Report
Releases
---
Dependencies
_self_/_current_:

Core/Class
Core/Element.Event
Core/Element.Dimensions
Core/Fx.Tween
Core/Fx.Transitions
Core/Selectors
More/Fx.Scroll
More/Slider
---
How to use
var myProductbrowser = new ScrollBar('products', 'bar', 'knob'[, options]);

First argument should contain an element with an overflow, for example all your products. Bar and knob are used for the Slider instance.
Options
Split into three parts
---
Todo
code review (anyone?)
discuss API
---
Changelog
added mouse wheel support
backported to MooTools 1.11
added to MooTools 1.3 ßeta 1 example
---