nextTerm v1.0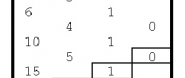 This plugin MooTools finds the next number in the sequence of integers using difference table.
---
---
Details
Author

Current version

v1.0

GitHub

Downloads

1148

Category

Tags

Report
---
How to use
First you must to include the JS files in the head of your HTML document.
    #HTML
    <script src="http://www.google.com/jsapi?key=ABQIAAAA1XbMiDxx_BTCY2_FkPh06RRaGTYH6UMl8mADNa0YKuWNNa8VNxQEerTAUcfkyrr6OwBovxn7TDAH5Q"></script>
    <script type="text/javascript">google.load("mootools", "1.3");</script>
    <script type="text/javascript" src="nextTerm.js"></script>

Problem: I need to know what number comes next in this sequence?
   #JS
   var sequence = [9,73,241,561,1081,1849];
   //solution:
   console.log("Next number comes next in this sequence is:" + sequence.nextTerm());
   console.log(sequence.combine([sequence.nextTerm()]));

---